SCROLL DOWN FOR SEPTEMBER 23 DETAILS
OVERVIEW

Although the rest of the year's meetings are on Zoom, 20th May and 23rd September are days when many of us can gather to worship, pray and be a face-to-face community again.The main elements of the day will also be livestreamed for those who want to watch online.

The day's programme will include Mass, Adoration, inspiring talk, Praise and worship. Full details below.
20th MAY 2023
"MISSION POSSIBLE"

Practical ways of Proclaiming the Good News

Guest speakers: Fr Jon Bielawski and Michele Thompson of "Genesis Mission," Through examples and testimonies, they showed practical ways we can share the good news.
Fr Jon is Episcopal Vicar for Evangelisation and Catechesis in Plymouth Diocese. Michele has a background as a Parish Youth Leader and Catholic University Chaplain. They both have a passion for empowering people to share the Good News of the Gospel.

Videos of Talk and Mass below. Praise & Worship did not record.

23rd SEPTEMBER
Please come to Church of St Joan of Arc, 19 Tilford Road, Farnham, Surrey. GU9 8DJ

(See below "Getting to Farnham")

Part of the day will also be live-streamed on Zoom - see below.

"THE YEAR OF THE LORD'S FAVOUR"
- God is on our side.

Jesus announced a time of 'Jubilee' - God's favour. He showed that God is on our side: He loves us unconditionally and is willing to forgive us. What is our response? And how can we fulfil our mission to pass on His love, forgiveness and joy by sharing the good news of God's Kingdom with all we meet?
TIMETABLE
(approx times)
9.30-10.00 Arrive at venue

10.00 Mass10.40 Refreshments

11.10 Intro; Praise & Worship*

11.40 Prophecy and Prayer*

12.00 Talk by Geoff Poulter*
13.00 Lunch
(NB please bring food to share at lunch)

14.00 Adoration

14.15 Prayer Ministry

15.15 Final remarks

15.30 Finish

* Livestreamed on Zoom (register for link)

Please register in advance for live or Zoom participation
Guest speaker: Geoff Poulter of Rhema Outreach, whose vision is to see people drawn into a deeper living relationship with Christ and to help them live out more fully their Christian calling in the power of the Holy Spirit.Geoff has a degree in Divinity and a Post Graduate Certificate in Theology. With his late wife Gina, he has been in active ministry in the Catholic Church for over forty years including Directorship of the Catholic Bible School. They have led training courses in healing, prophecy and discipleship. Geoff is also an accredited 'Unbound' Prayer and Deliverance Minister.
This retreat is hosted by ADoRE leader Alastair Emblem, who will also lead the Praise and Worship.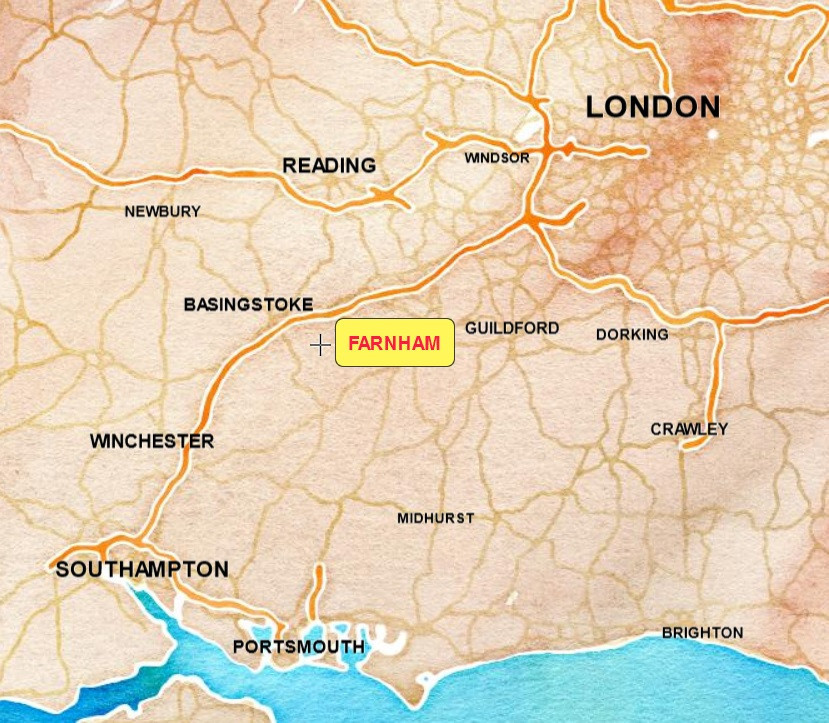 GETTING TO FARNHAM
By Road

Address: Church of St Joan of Arc, 19 Tilford Road, Farnham, Surrey. GU9 8DJ

Farnham is on the A31 Guildford to Winchester and is about an hour's drive from Southampton and Crawley; 45 minutes from Reading, Winchester, Windsor, Dorking. From A31 follow signs to Farnham station, go over level crossing and fork right into Tilford Road. After 200 metres the entrance to the Church car park is on the left (almost opposite Alfred road on the right.) If you find the satnav has taken you on the left fork (Waverley Lane), you can turn right into the entrance to St Polycarps School - ignore the "no entry "sign - and drive through to the church car park.

By rail

Farnham is on the Alton branch line from Woking, which has connections to London Waterloo, Basingstoke, Salisbury, Southampton, Bournemouth, Guildford, Portsmouth.
Network Map HERE Journey planner and tickets HERE
Church is 5 minutes walk from station, (away from the town) - follow instructions above.