SPREAD THE GOOD NEWS!

Most newcomers to our ADoRE Online meetings contact us because of personal recommendation. We give thanks to God that we are reaching so many people with His message of renewal in the Holy Spirit through our Zoom broadcasts, through this website, FaceBook and YouTube. If you want to know more about these online mini-retreats for spiritual renewal, look at the video, spread the word, and join us. And tell others about the wealth of resources available here on the website. God bless you.

Click on the image to view a short trailer.
Talk given at ADoRE August 2021

Fr Gareth Leyshon of the Sion Community gave a brilliant teaching on the Charisms of Tongues and Miracles and prayed powerfully for us to be anointed with a fresh outpouring of the Holy Spirit. "Talk was very powerful and felt the presence of the Holy Spirit." "Clear, insightful and inspiring."

You can also watch the Mass celebrated by Fr Gareth HERE, and the praise and worship from the day HERE
Prophecies

After listening to the Lord during Adoration, we had a time of sharing the many encouraging words and pictures we believe He was giving us. There was a feeling that we need to keep bringing all our problems - personal and global - to the Lord and trust Him with them. We must yield to His Holy Spirit and let Him mould and transform us into a people who are empowered by His gifts to take His love out to the world and serve those in need.

Full text of August prophetic sharing HERE
Earlier prophecies, and an explanation of the gift of prophecy, can be found HERE
Renewal Praise and worship hour

In March, Alastair Emblem led the Wednesday Worship hour on Catholic Charismatic Renewal's Facebook livestream, with many favourite songs you can sing along to.
Click on the picture or HERE
Song lyrics sheet HERE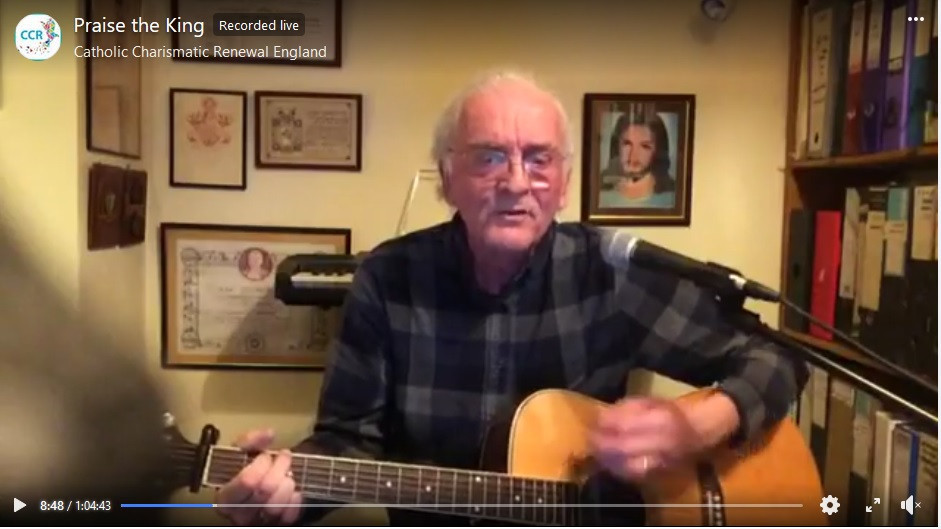 We have a growing community of ADoRErs who enthusiastically tell us what they feel about the meetings. For example:"I find it all helpful and inspiring. It's wonderful to be immersed in God; praising and adoring Him with holy Mass, encouragements from the prophecies, talk and testimony." LATEST COMMENTS HERE
Don't forget to tell your fellow parishioners and friends too, and please also go to our Guestbook to let us know your thoughts.