WHY PRAISE AND WORSHIP?

One of the most notable characteristics of charismatic renewal is the lively, vibrant praise and deep, heartfelt worship.

At ADoRE, we set aside plenty of time to praise and worship our amazing Lord and God:
Thanking our loving heavenly Father for His gifts of creation and life;
Thanking our Saviour Jesus Christ for His gifts of salvation and new, eternal life;
Thanking the Holy Spirit for His gifts of holiness and power, to enable us to live in line with the Father's will.
ADORE PRAISE AND WORSHIP

As part of every month's online meeting we have about 20 minutes of Praise songs, before the talk, to help open ourselves more fully to the Holy Spirit, so that He can renew us through the teaching and prayer.

Each month's session is recorded and stored on our YouTube channel so you can revisit and sing along to the words displayed on the screen. Click on the picture or follow the link HERE

In May 2022 we had a whole session devoted to Praise. More details HERE

RENEWAL PRAISE AND WORSHIP HOUR

In March, 2021 ADoRE leader Alastair Emblem led the Wednesday Worship hour on Catholic Charismatic Renewal's Facebook livestream, with many favourite songs you can sing along to.
Click on the picture or HERE
Song lyrics sheet HERE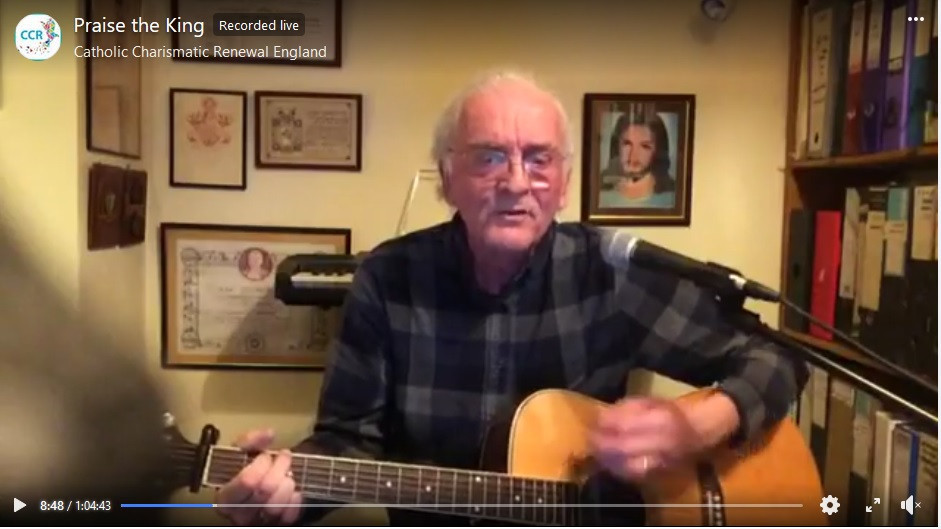 AUDIO PLAYLISTS
You can also listen to audio playlists of Alastair singing a selection of worship songs used at ADoRE.
All music and lyrics reproduction covered by CCLI Church Copyright licence no. 2333406 and streaming licence no. 122157