Alton Day of Renewal

Contact: Alastair Emblem Tel: 01252 714809 email: alastairemblem at yahoo.co.uk (replace at with @)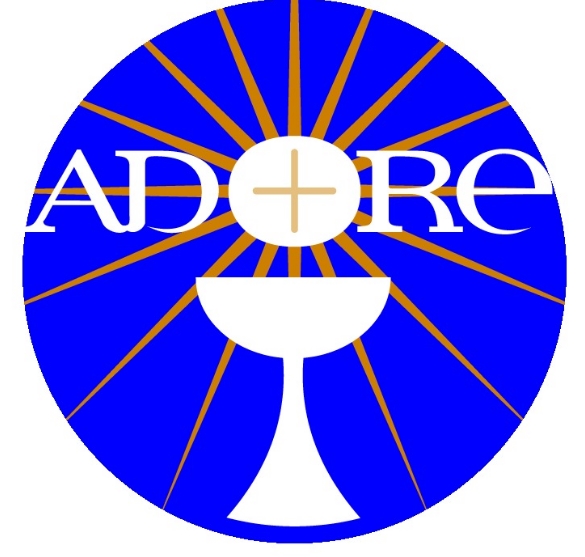 Sister Marie-Anne's leaving presentation

In June 2019 we said a sad but profoundly grateful au revoir to Sister Marie-Anne Marot, who has been involved with Alton Day of Renewal from the very beginning in 1975. After serving with the Sisters of Our Lady of Providence in Alton and Basingstoke, she has now been recalled to the mother house of the Order in Saintes, Charente Maritime (just above Bordeaux) in France.
At the meeting on 22nd June, Core Group leader Alastair Emblem presented Sister Marie-Anne with a beautiful ceramic dish decorated with the ADoRE logo and thanked her for her wonderful support for the Day of Renewal and her invaluable help on the Core Group for the last few years.
Sr. Marianne says: " I keep the day of renewal in my prayers as it is a very important place of evangelisation and healing so necessary. Please pray that the Spirit may lead me and show me the way ahead."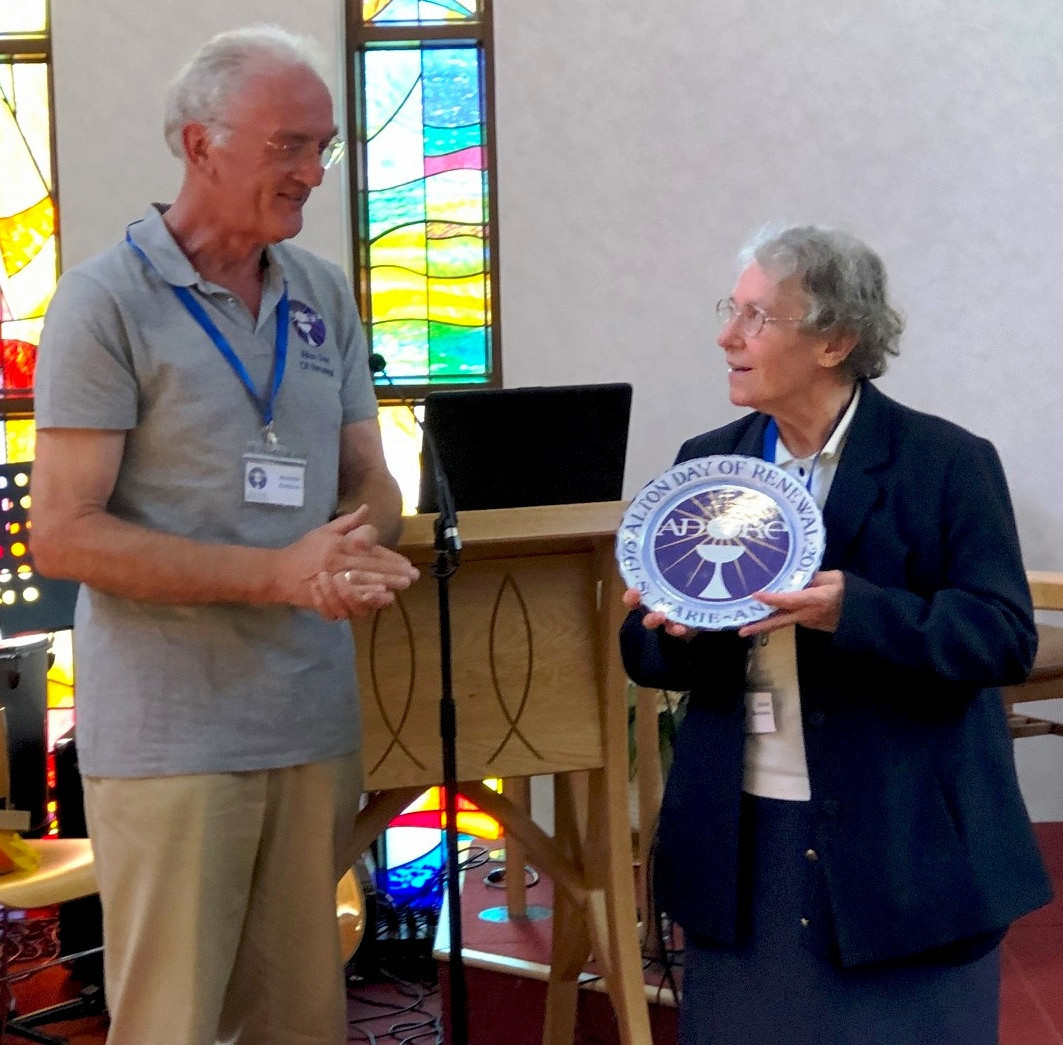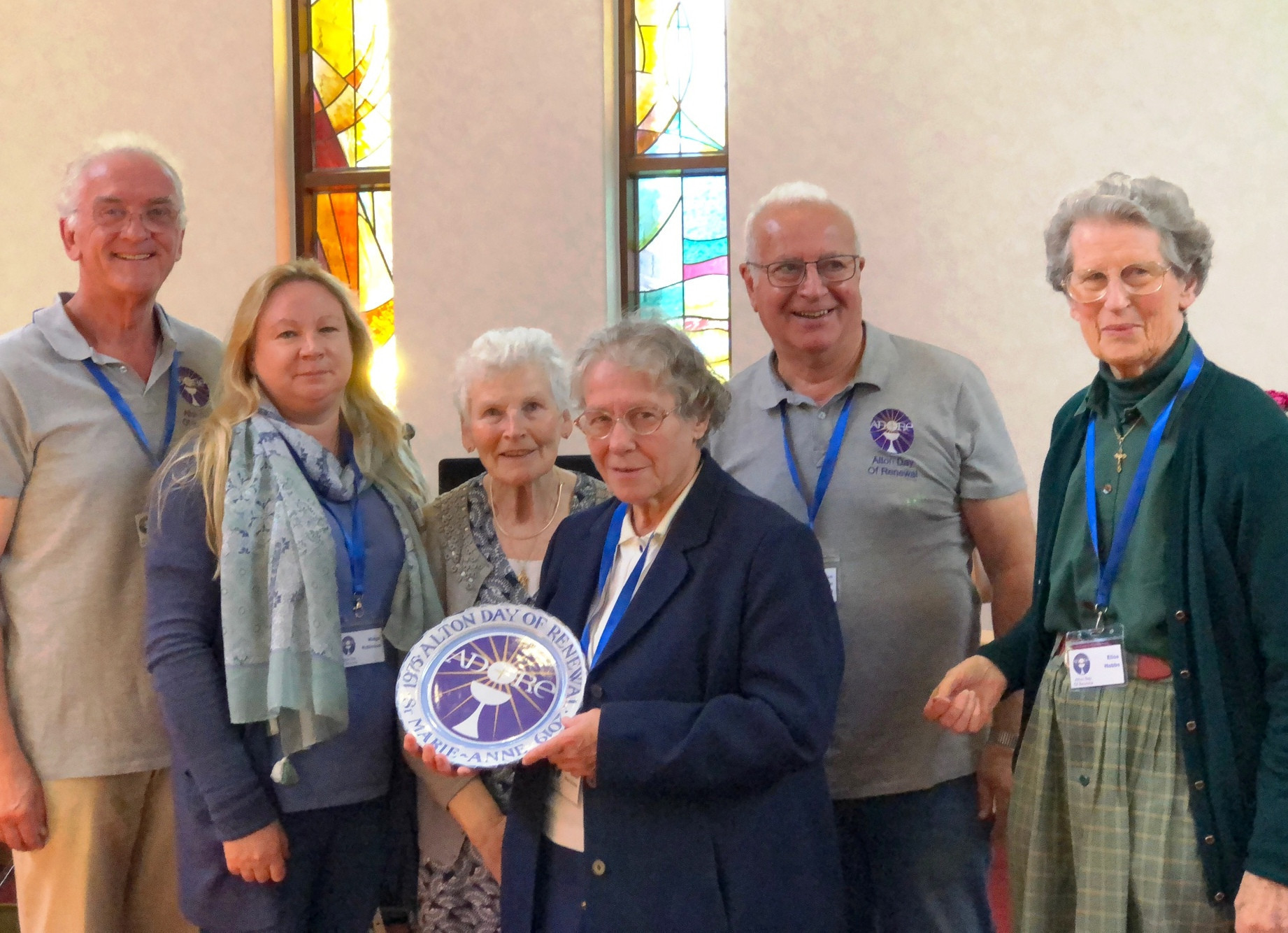 This photo shows some of the members of the Core Team. (From left) Alastair Emblem, Midge Robinson, Dymphna Wilson. Sister Marie Anne, Deacon John Foley and Elise Hobbs. Members not present were Michael Davidson, Fr. Aidan Murray, Roy Singh and Judith Aylmer.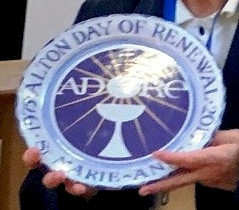 The inscription reads
"Sr Marie-Anne.
Alton Day of Renewal 1975-2019"
ADoRE Co-founder still active at 95
Several Alton regulars were delighted to meet up with Fr Brian Coogan at the Southampton Celebrate Conference in September, where he was thoroughly enjoying the talks and worship. Fr Brian now lives in Shanklin, Isle of Wight, where he is still active as a Priest, having been ordained 72 years ago.

It was in November 1974 that Fr Brian, a Mill Hill Father in Basingstoke, started a prayer group in the home of Ron and Margaret Nicholls every Thursday evening, with some sisters and lay people. They went to a charismatic conference at Hopwood Hal, then organised a day of renewal in Basingstoke in St Joseph's Parish, and two more in Southampton parishes with Fr Leo Target.
Bob Balkam, a pioneer of renewal from the USA, encouraged the formation of a Core Team and advised them to find a permanent home for the Day of Renewal. Another founder member, Sister Paddy, felt that the Lord was directing them to use Alton Convent. Father Coogan and Ron Nicholls asked the Superior of Alton Convent to allow them to hold the Day of renewal there, and the first Alton Day of Renewal took place in January 1975.
Many people in the early days came up from Southampton, until they decided to hold their own meetings - the Southampton Conferences held at La Sainte Union College. This continued until 1994 when Charles and Sue Whitehead started the Celebrate Family Conference at Ilfracombe. Then from 2008, Celebrate weekends have been held around the country. ADoRE can therefore be seen as the "grandfather" of Celebrate - so Fr Brian must be the great grandfather! Deo Gratias!

Read more of the history of Catholic Charismatic Renewal in Southern England HERE