Overall theme for 2020: "THE GOD WHO SPEAKS - are we listening?"
2020 is both the Year of the Bible and the year when England is rededicated as "Mary's Dowry". Our programme this year will encourage us to listen to God speaking to us through His word, just as Mary did.
TIME TABLE

(approximate timings)
9.30am Rosary
10.00am Mass followed by Adoration,
11.00 am Praise and worship
11.15am Reflection and prophecy
11.45am Talk
12.30 Finish
JOINING DETAILS

1. If you are not yet using Zoom, download the latest version of the Zoom App. to your computer or mobile device. You can download it HERE

2. If you are not on our regular mailing list, please register HERE by 20th May and we will send you the invitation and password to the meeting.

3. Just before 10am on 23rd, click on the link in the invitation email you will receive. This should take you straight in to the meeting, but you may also need the ID and password you will receive.
4. If you are asked to enable video/webcam, click on yes or accept. Your microphone will be automatically muted.

5. Once you're in the meeting, if you can't see your picture on the screen, check at the bottom left* of the screen and if there is a line through the video camera icon, click on it to open video.

If you can't hear anyone, check that your audio volume is turned up and not muted.
If you hover your cursor at the top right* of the screen there is a broken square icon, Click on this to maximise the screen view. To the left of this icon is another icon which gives you the option to see all the participants (gallery view) or just the person who is speaking (speaker view).

*These locations may vary on different computers)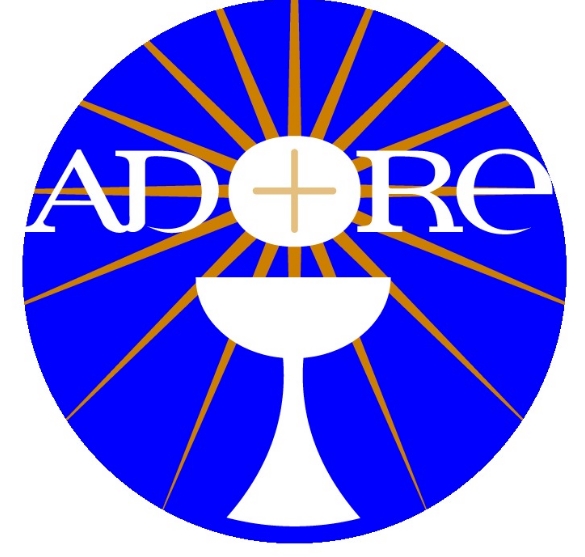 JUNE 27 ONLINE PROGRAMME
You are welcome to join us on a Zoom Video Conference call from 10.00am. See separate "JOINING DETAILS" panel for how to join and participate in the call.

Rosary: we normally start our meeting with the Rosary, but this will not be part of the Zoom conference this month. You can choose to watch an online Rosary for example EWTN International Rosary Joyful Mysteries; or Rosary Joyful Mysteries from Lourdes; or say your own, using our ADoRE "Rosary with Scriptures" Link HERE
Mass: will be celebrated soon after 10am When you join the conference, please ensure your microphone is muted so you don't interrupt.
Adoration: will take place immediately after Mass until just before 11am
Praise and Worship: from 11am after a short welcome and introduction. Song words will be shown on screen so you can join in at home, though your microphone will still be muted. (The time delay online makes it tricky to sing in unison).
Reflection and prophecy: after a short time of silent reflection, individuals may offer words that they feel the Lord is giving them. Please raise your hand and wait while your microphone is unmuted and you are invited to speak. (Prophecies will be discerned by the Core Team later).
Talk: this month the guest speaker is Peter Hobbs, leader of Adult Formation and Confirmation classes in his parish. Topic: "The Word became flesh" (John 1:14) God became man through Mary; Jesus enters the world today through us. How can we witness effectively?

Finish: we will probably be finished by about 12.30 or so.
Follow up: We will be offering the opportunity for you to receive healing prayer ministry by telephone after the meeting. Details to be advised.